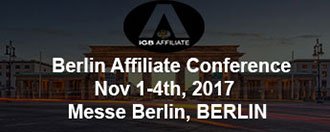 Start Date: November 1, 2017
End Date: November 4, 2017
Join us at the Berlin Affiliate Conference 2017!
After a successful 2016 event with 3,056 delegates attending - 1,695 of which were affiliates, the Berlin Affiliate Conference and Financial Partners Expo will return to the German capital for the 2017 event. BAC and FPE will take place on Wednesday 1st November - Saturday 4th November 2017 at the Messe Berlin and will once again back onto EiG. If you want to do business in the igaming affiliate market, meet new affiliates, take time to help develop your best performing affiliates, or if you are an affiliate and want to know which affiliate managers can offer you the best deals and see what your competitors are doing, then this is the event for you.
With two conference rooms, BAC and FPE offers delegates a great opportunity to learn about the latest trends and opportunities in this profitable market. There will be a full day of SEO sessions covering PPC, link building, the latest on Google updates and much more. BAC 2017 will aim to improve your business strategy, discover what really drives conversions, improve your SEO and lots more. All of that in two days of back to back learning and networking.

Financial Partners Expo co-located with BAC

FPEBerlin_logo_130x130.jpgThe Financial Partners Expo will be co-located with BAC in 2017. The Financial Partners Expo is the largest dedicated expo for affiliates and introducing brokers within the retail finance sector. The show provides affiliates and introducing brokers with the opportunity to launch, grow and enhance their businesses in this rapidly growing and lucrative niche.

The Berlin Affiliate Conference brings you you:

Over 3,000 delegates
Over 100 affiliate programs
Over 1,500 affiliate attendees
Conference sessions that increased your revenue
Insights from industry experts
Amazing networking parties, in incredible venues, in a stunning city
And it was all FREE for affiliates and introducing brokers!