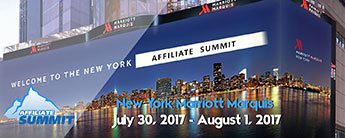 These high-level decision makers will come looking for online publishers, traffic sources, retailers, networks, technology firms, digital agencies and other solution providers.

During July 30 August 1, 2017, more than 5,500 digital marketers from over 70 countries will gather at the New York Marriott Marquis for the performance marketing industrys premier global event, Affiliate Summit East 2017.

The conference and tradeshow offers attendees:

* three tradeshow areas packed with affiliates, merchants, vendors, networks, technology providers, digital agencies, traffic sources;
* multiple tracks of relevant educational sessions delivered by industry experts;
* a variety of networking events;
* and online tools to help you connect with other attendees before, during and after the event.

EXHIBITOR & SPONSOR INFO
Whether your priority is lead generation, brand awareness or positioning, our Exhibitor and Sponsorship packages are designed to connect you with your target audience.
Check out our Exhibitor and Sponsorship Opportunities for descriptions of our available options and levels of exposure. There you can also view our existing exhibitors and sponsors.
If you're ready to reach the key decision makers in this landmark event, book your Exhibitor or Sponsorship package now.

REGISTER
Four pass types are available for Affiliate Summit East 2017 - Affiliate, Networking, Networking Plus, and VIP.

* Networking passes are best for industry professionals who want basic networking access to other industry professionals.
* Networking Plus and Affiliate passes are best for industry professionals that want to network with other industry professionals and receive access to select content.
* VIP passes are best for industry insiders looking to connect with and learn from other industry insiders. VIP attendees also receive exclusive access to VIP events, food & drinks, swag and other additional amenities.